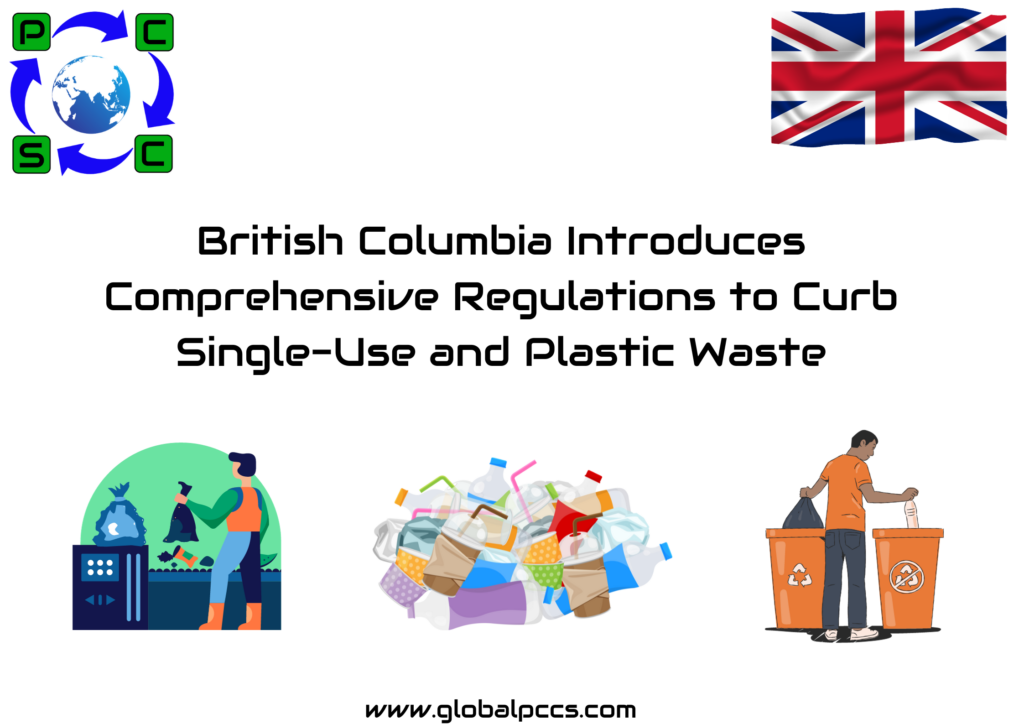 By outlawing specific products and encouraging sustainable alternatives, British Columbia's Single-Use and Plastic Waste Prevention Regulation seeks to lessen the environmental effect of single-use and plastic items.
The Regulation imposes a number of restrictions and regulations, which become operative six months after publication, such as:
1. Prohibiting the use of single-use plastic shopping bags, regardless of whether they are made from compostable, biodegradable plastics, or other materials.
2. Restricting food service providers from packaging prepared food and beverages for sale in B.C. using items made from compostable plastics, biodegradable plastics, polystyrene foam, PVC (polyvinyl chloride), and PVDC (polyvinylidene chloride).
3. Banning the sale and distribution of foodservice packaging made from biodegradable plastics, polystyrene foam, PVC, and PVDC for packaging food and beverages.
4. Prohibiting single-use plastic utensils, including compostable and biodegradable options.
5. Eliminating pre-packaged bundles of foodservice accessories, such as napkins and single-serve condiments.
6. Banning all packaging and single-use products made from oxo-degradable plastics.
✅Businesses will have to offer a no-cost option, such as using reusable bags or existing containers, and charge a minimal fee for single-use paper shopping bags in order to
encourage the adoption of alternatives.
✅In addition, single-use foodservice accessories will only be offered online or upon request. Examples of these accessories include drinking straws, napkins, wet wipes, wooden utensils, and single-serve condiments. Self-service kiosks are going to be allowed.
✅The Regulation allows for exemptions on the grounds of affordability, accessibility, or lack of appropriate substitutes. The restriction does not apply to manufacture or import done with the intention of exporting.
✅With the exception of polystyrene foam trays used for meat, poultry, and fish, the ban on shopping bags, foodservice ware, and accessories will go into effect six months after the
Regulation is published. On July 1, 2030, which is seven years after the Regulation's publication, the sale and distribution of polystyrene foam trays used for these purposes will
be prohibited.
✅This law aims to lessen the environmental impact of single-use and plastic products by encouraging reusable alternatives, guaranteeing the recyclability or compostability of
necessary items, and phasing out unnecessary products. It also aligns with British Columbia's commitment to the pollution prevention hierarchy.
✅The single-use plastic product categories that the regulation targets are frequently discovered in Canadian shorelines and terrestrial litter clean-ups, endangering ecosystems
and wildlife.
✅According to British Columbia, the Regulation will address recycling issues and boost value recovery system effectiveness in addition to preventing the use of about 192 million single- use bags yearly. This action is a component of a larger plan to promote a circular economy in the province and prevent plastic pollution.
Conclusion
British Columbia's Single-Use and Plastic Waste Prevention Regulation bans or restricts a range of single-use and plastic items, such as shopping bags, foodservice packaging, and
utensils. It also requires businesses to offer reusable alternatives and charge a fee for paper shopping bags. The regulation is expected to reduce plastic pollution and promote a circular economy.
For more information on the impact please book a free consultation by filling the form or writing to us at manjunath.c@globalpccs.com