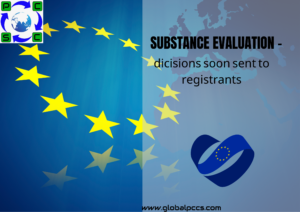 Community rolling action plan
Any substance that appears on this list – Substance evaluation – CoRAP list has been or will be reviewed by a Member State in the coming years. This list is known as Community Rolling Action Plan, the list (CoRAP).
Every year in March, ECHA updates the plan to include new substances and advance preparation for a subsequent year. This covers both the updating of the already mentioned substances and their timing in relation to the relevant year of the prior plan. If a Member State obtains information indicating that a substance should be evaluated first, it may notify the material at any time for inclusion. This substance is covered by ECHA's upcoming yearly update.
Selection Criteria
The selection criteria include exposure information, including exposure potential based on uses, total registered volumes, and hazard information (possible persistency, bioaccumulation, and toxicity (PBT), endocrine disruption, or carcinogenicity, mutagenicity, and toxicity to reproduction (CMR)). ECHA provides a risk-based strategy by combining factors linked to exposure and hazards.
Only substances that could benefit from a request for more information to address the original concern about them will be included in the CoRAP by Member States and ECHA.
Developing CoRAP
For ECHA to establish a draft CoRAP with the name of the drug, the evaluating Member State, and the prospective assessment year, Member States must express their interest in reviewing a particular substance. Every autumn, ECHA makes the draught CoRAP available online.
Based on the Member State Committee's recommendation, ECHA adopts the CoRAP update. The questions for each substance are listed, along with the Member State that will conduct the examination.
Timeline
The designated Member States have one year from the date of publication of the CoRAP update to evaluate such substances in accordance with the guidelines for the first (or current) year of the CoRAP and, where necessary, prepare a draft decision for requesting additional information from registrants of the relevant substance to address the concerns identified (potential risks).
Source : – https://echa.europa.eu/regulations/reach/evaluation/substance-evaluation/community-rolling-action-plan